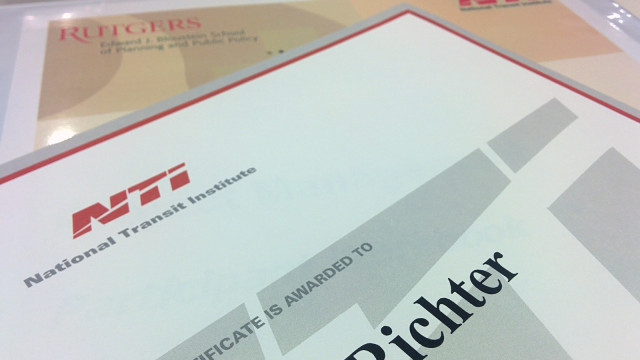 New CEU: NTI's Project Management for Transit Professionals Training
National Transit Institute was offering this course (graciously arranged by AC Transit) just down the street from where I work. As a result, I spent the last two days talking about SOW, Project Charters, Gantt Charts, Risk Management, and a variety of other project management techniques. Right now, I am at a point where I am starting to assign work to others within my little group. It's informal, but the concept of "critical path" is very relevant when working with as many agencies as I do.
From the NTI Website, here's what the course covered:
Describe the major components of a well-defined project
Explain the functionality of each phase of the project lifecycle and associated deliverables
Create a Project Management Plan (PMP), including a Statement of Work (SOW) and Work Breakdown Structure (WBS)
Identify methods to obtain reasonable project estimates to develop a realistic project schedule
Use Earned Value to control and report a projects status and evaluate the impact of potential changes on the PMP
Recognize the relationship between leadership and teamwork development, as well as the importance of communicating to all stakeholders
Too bad there's no certificate that they offer, but this was another 1.2 CEU.